Aggie Voices Alumni: Lulu Zhang
Lulu Zhang's passion for learning and work ethic are unmistakable. Despite starting college later than many of her peers, moving across the world and learning English along the way, she graduated from UC Davis in 2018 with a degree in American History and three minors: Gender, Sexuality and Women's Studies; Latin American and Hemispheric Studies; and Professional Writing. 
But Lulu's journey didn't end at graduation. She has continued to overcome hardships, seek out opportunities to learn and pursue her dreams with tenacity—and she maintains her connections with UC Davis by taking advantage of opportunities open to alumni and the community. In a conversation with Aggie Voices earlier this year, Lulu opened up about her time at UC Davis, her life post-grad, and the lessons she's learned along the way.
This interview has been edited and condensed for clarity.
---
What's the nicest thing someone did for you on campus?
When Dr. Chad Anderson learned that I was struggling with English in his U.S. History class, he went over all of the lecture notes with me during his office hours and our scheduled appointments. I received an A for the course and have kept in touch with him even after he took another job in New York. Without his support, I do not think I would have had the courage to pursue a history degree as an international student from a non-English speaking country. 
What's the "most UC Davis thing" you've ever done?
I took three 4-unit courses in the first summer session of 2018 and got A's in all three classes.
Did anyone made a major impact on your time at UC Davis?
Professor Edward Dickinson made an impact on me at Davis. I was sad that I started college at 21 instead of 18, but Professor Dickinson advised me that life was full of challenges and the most important thing was to not judge yourself and not judge others. I didn't quite understand what he meant as a college student. Now, after I have been through a divorce, I have a deeper understanding of his advice.
What was your most difficult time at UC Davis, and what did you do to change that?
When I struggled to understand English in my history classes, I worked extremely hard to improve my English. I watched American TV shows every day, diligently read my assigned history textbooks, communicated with American students every day, and went to office hours and the Student Academic Success Center [now Academic Assistance and Tutoring Centers] to improve my English writing.
What is the best compliment you have ever received? Why?
"Lulu, I think you are awesome." It was the best compliment I received because the speaker commented on my personality traits rather than my grades. It meant and still means a lot to me.
Describe a person or situation from your childhood that has had a profound effect on the way you look at life.
My mom always told me that, for a woman, the most important goal in life was not to find a boyfriend, but to get an advanced degree (i.e., a Ph.D.) and become financially independent. This belief that my mom instilled in me since my childhood makes me resilient while facing relationship challenges. My mom never limited my life or imagination just because I was a daughter. She never told me there was anything I was not supposed to do because of my gender. I am forever thankful for her because of that.
What is the most surprising or unexpected thing that happened to you at UC Davis?
I graduated from UC Davis in 2018. I completed my undergraduate degree in history! I was often told to change my major, because a history degree would be too difficult for an international student.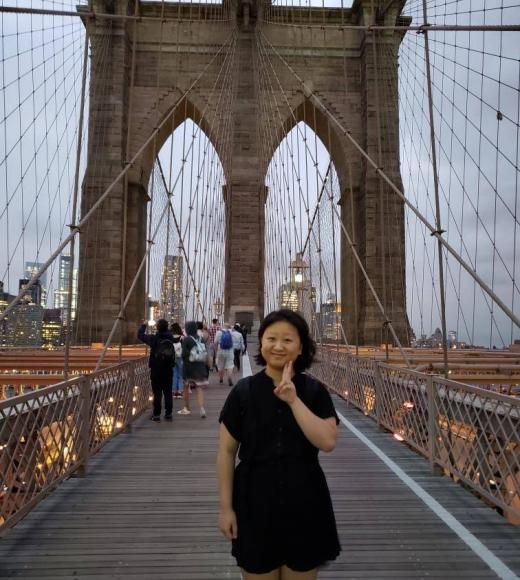 How have you changed since you started at UC Davis?
I have become a proactive and persistent individual when it comes to problem-solving. UC Davis is a large university—unless I asked, no one would have known that I needed help. Over time, I have trained myself to become a person who always stays on top of everything and pays great attention to detail. College is about finding oneself, and I am glad I found myself at UC Davis. I would never change it for anything else. 
What is a piece of advice you would give someone coming to UC Davis?
Do not stress out over what major you should choose. Pick a major you truly love, so you can give your heart to it and achieve the highest GPA possible. A high college GPA is always instrumental for your future academic or professional goals. If you are not sure what you want to major in, take a variety of classes, explore volunteer and internship opportunities, work HARD, so you can eventually find your true passion and make valuable connections along the way. Most importantly, do not focus on your destination so much that you forget to enjoy the journey!
Where has post-grad life taken you?  What have you been doing since you graduated and what does your life look like now?
I work at the Yolo County Library, Davis branch. 
I'm also enrolled in the UCLA Journalism Certificate program to continue to sharpen my writing and storytelling skills so I can use my voice as a legal professional in the global space. I was also recently admitted to the UCLA Translation Certificate Program to hone my language skills in both Chinese and English. English is not my first language, so there's always room for me to improve. 
I went through domestic violence in 2018, 2019 and 2020. But I fought hard to get myself out of the situation, and I'm focusing on advancing my academic and professional goals. I hope my experience tells the story that we don't need to focus on negative things or experiences in life, because we always have options and we ourselves are in charge of what options we choose. We can turn setbacks into opportunities. For example, my experience with domestic violence helped me grow personally and professionally; I am much more compassionate and willing to put myself in others' shoes when I am in a difficult situation. Professionally, I'm much more mindful of how to talk, what to talk about with different audiences in different settings and knowing what to say or not say in different situations, regardless of how I personally feel.
---
About the author
Sophia Meals, the Editorial and Content Creation Assistant at Student Affairs Marketing and Communications, graduated from UC Davis in 2021 with her Bachelor of Arts in Communication.
Primary Category