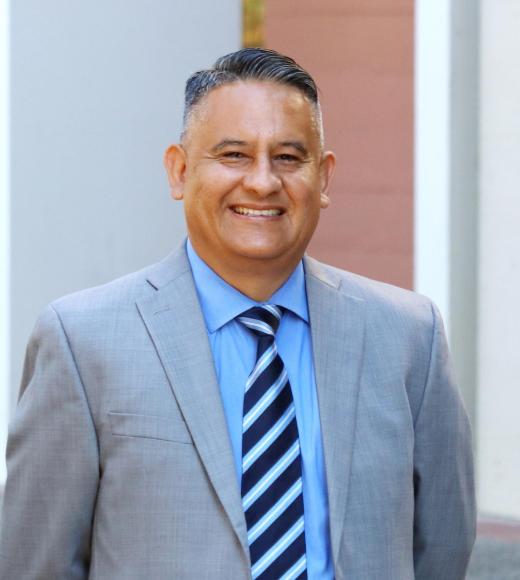 Position Title

Vice Chancellor for Student Affairs
Bio
For Pablo Reguerín, his recent start as vice chancellor for Student Affairs marked a return to campus. Pablo completed his doctorate in Education at UC Davis in 2017, but his professional interest in supporting student success and equity dates to his days as a work-study student employee in the EOP center at UC Santa Cruz.
Completing his Bachelor of Arts in Latino and Latin American Studies at Santa Cruz, Pablo went on to earn a Master of Arts in Educational Leadership from Columbia University. Progressive leadership roles over an almost 20-year affiliation with UC Santa Cruz led up to his serving as associate vice chancellor of student achievement and equity innovation, a position he held from 2017 until the May 2020 announcement of his selection as vice chancellor for Student Affairs at UC Davis.
Pablo's family immigrated to the Bay Area from Bolivia when he was two. As he tells it, education has had a transformative influence in his life; and as a leader in higher education, he has emphasized equity, inclusion and access to the opportunity it promises. As vice chancellor, Pablo oversees the nearly 30 units that make up the Division of Student Affairs, including programs and partnerships that promote student learning and success, personal growth and lifelong education.
Vice Chancellors Student Affairs
The Office of the Vice Chancellor, Student Affairs, initiates, develops, and maintains programs and services that support students in their academic pursuits, provide stewardship for the campus climate, and promote leadership, teamwork and social responsibility.
Pablo G. Reguerín, vice chancellor, July 2020–present
Emily Galindo, interim vice chancellor, May 2018–June 2020
Adela de la Torre, vice chancellor, August 2013-April 2018
Adela de la Torre, interim vice chancellor, July 2012-July 2013
Fred Wood, vice chancellor, August 2007-June 2012
Janet Gong, interim vice chancellor, January 2007-July 2007
Judy Sakaki, July 2002-January 2007
Robert Franks, interim vice chancellor, January 2002-June 2002
Carolyn F. Wall, July 1995-December 2001
Robert Franks, interim vice chancellor, July 1994-June 1995
Frank L. Rincon, 1992-1994
Robert E. Chason, acting vice chancellor, 1991-1992
Thomas B. Dutton, 1970-1991