Postvention: A New Roadmap Through Difficult Events on Campus
It's a campus worst-case scenario—the sudden death of a student. The university is introducing new guidelines for how it will respond to this type of event. Whether from suicide, an accident or other cause, providing support and care after a campus death is a huge undertaking that calls for rapid and intensive coordination between many units and individuals. But beyond the requisite administrative arrangements, "a student is a part of the campus family," said Associate Vice Chancellor for Health, Wellness and Divisional Resources Cory Vu. "The first priority [following a sudden campus death] is supporting the family and others who are impacted." 
Starting Points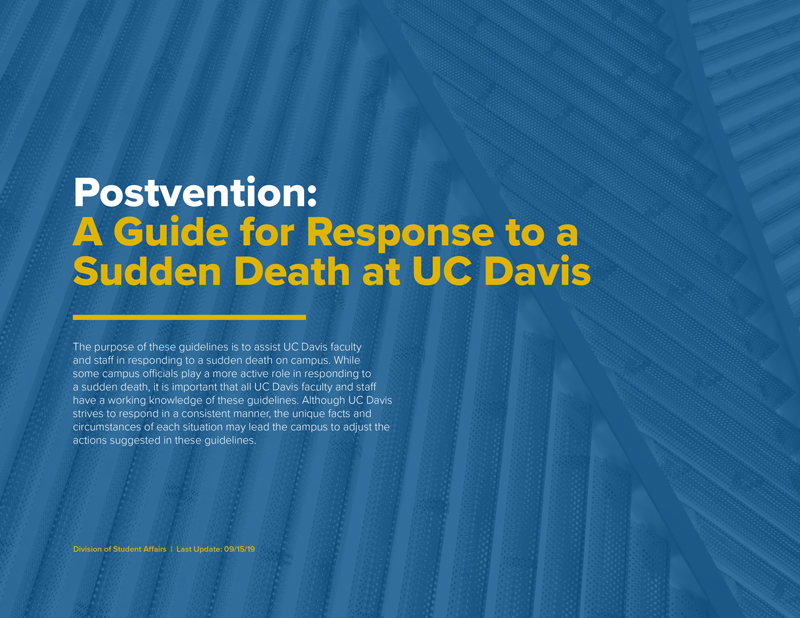 Vu served as chair of the workgroup that developed Postvention: A Guide for Response to a Sudden Death at UC Davis, the university's first comprehensive guidelines on the subject. Originating in a Jed Foundation campus suicide prevention assessment several years ago, and furthered by the recommendations of the Mental Health Care Task Force convened last year by Chancellor May, development of the document involved representatives from a broad spectrum of campus partners.*
"Postvention" refers to measures taken after a sudden death to provide psychological and practical support and assistance to those affected. When intense emotions, grief and confusion are common, a postvention plan provides a systematic framework for response while the campus community is at its most vulnerable. The specific interventions called for by the UC Davis Postvention Guidelines are designed to facilitate the grieving process, stabilize the environment, reduce the risk of negative behaviors and limit the risk of further deaths, for example through suicide contagion. The guidelines address the death of a student whether on or off campus, including study abroad programs.
Postvention in Action
Anyone who learns of a student death should contact the Office of the Vice Chancellor for Student Affairs. Under the new guidelines, the vice chancellor will immediately call an ad hoc meeting of the Postvention Committee, which will be made up of two co-chairs and 21 university representatives. The immediate goal of the committee will be to assign tasks, mobilize resources and coordinate clear, concise communication, all with the aim of helping to begin the process of healing for those closest to the deceased, as well as the community at large. Beginning this October, the Postvention Committee will also hold standing meetings quarterly.  "As we work together, we can identify things that we can improve upon," said Vu, calling the Postvention guidelines a "living document." "Many people will be impacted by a student death" he said, "and we hope that this document will provide some guidance on how best to support everyone on campus when that happens."
The Postvention document is intended to enable staff, faculty and students to gain a working knowledge of the guidelines. It also outlines how faculty and staff can assist a struggling student and provide resources and support services. All questions about a sudden death on or off campus should be directed to the Office of the Vice Chancellor for Student Affairs.
In the series of actions prescribed by the Postvention Committee following a sudden death, providing counseling and clinical services, as well as decisions around holding memorials and other related events, is only part of the picture. Central to the Postvention concept is the idea that efficient coordination and communication around mandated administrative actions is part and parcel of supporting those affected by the death on an emotional level as well. Vu recalls how during the toughest week of his career at UC Davis, years ago, he met with the parents of two students who had committed suicide. Conversations like these will never be easy, but what a resource like the UC Davis Postvention Guidelines ensures is a rapid and adaptable response aimed at preventing the trauma from growing. 
---
*The Postvention Guidelines Workgroup included:
Cory Vu, associate vice chancellor for Health, Wellness and Divisional Resources (Student Affairs) 
Duane Lindsay, executive project analyst (Student Housing and Dining Services)
Branden Petitt, director, Office of Student Development (Student Housing and Dining Services)
Margaret A Walter, executive director,

Student Health and Counseling Services

Dorje Jennette, director of Academic Satellites (Counseling Services) 
Katie Cougevan, interim clinical director, Counseling Services
Emilia Aguirre, health promotion specialist, Mental Well-Being
Jennifer Billeci, director, Student Disability Center
Jennifer Chow, assistant director, Student Support (Office of Student Support and Judicial Affairs)
Lt. Mike Green, police lieutenant (UC Davis Police Department) 
Melissa Blouin, director, News and Media Relations (Strategic Communications)

Sue Ebeler, associate dean, Undergraduate Academic Programs (College of Agricultural and Environmental Sciences)

Donna Olsson, executive assistant dean, College of Biological Sciences

Kellie Sims Butler, assistant dean, Graduate Studies 
Wes Young, director, Services for International Students and Scholars (Global Affairs) 
Gaby Renteria, manager, Risk Management Services (Safety Services) 

Dr. Carolyn Dewa, professor of psychiatry and behavioral sciences (UC Davis Health System) 

Katrina Manrique, student representative (SHCS: Co-Lead for the Student Mental Health Coalition)

Shradha Shah, student representative (SHCS: Co-Lead for the Student Mental Health Coalition)