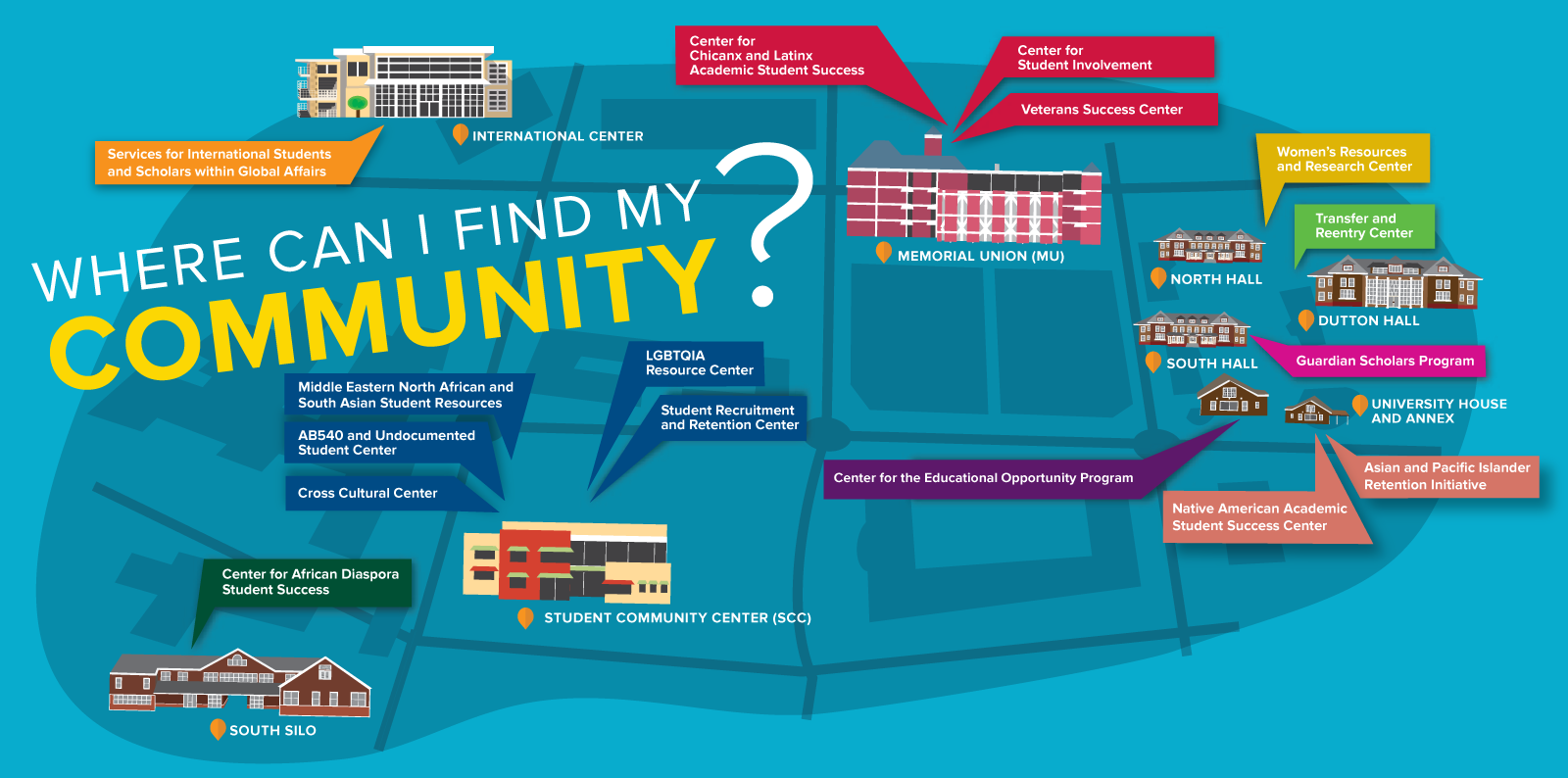 Academic advising
 Counseling services
 Immigration services
Reservable space
 Volunteer, internship and employment
Child-friendly space




Student Community Center
Built on the foundation of educational equity and opportunity, the AB540 and Undocumented Student Center at UC Davis strives to empower undocumented students, their families and members of the community in being informed leaders and active participants in our communities.



University House and Annex
The Strategic Asian and Pacific Islander Retention Initiative (SAandPIRI) is dedicated to the academic, personal, and professional success of all UC Davis students who identify with the Asian and Pacific Islander community. Through collaborative efforts with Student Affairs, Academic Affairs, and other on-campus departments, the AandPI Retention Initiative, seeks to create a support network for AandPI students at UC Davis.



South Silo
The Center for African Diaspora Student Success provides tools and resources that support students' developmental transformation, empowering them to maximize their potential and positively impact the UC Davis campus.




Memorial Union
The core mission of Center for Chicanx and Latinx Academic Student Success is to provide an academic support space where students thrive as scholars and unique individuals. The center's practices and services are grounded in access, academics and empowerment.




The Center for the Educational Opportunity Program is committed to serving the UC Davis community by helping students who are from historically low-income backgrounds and who are first in their family to attend college strengthen their academic skills to meet the demands of a research university. We strive to maintain a climate of academic excellence and maximize retention by living by our five pillars: academic guidance, advocacy, community connections, financial resources and leadership development.  

Memorial Union
The Center for Student Involvement empowers students to get involved and to author their own experience through meaningful co-curricular engagement.


Student Community Center
The UC Davis Cross Cultural Center provides a culturally relevant community space where student voices can be expressed and respected.




South Hall
The Guardian Scholars Program is committed to improving the educational outcomes for foster youth and former foster youth by providing services and support to meet their needs through transition, graduation and post-graduate planning.


International Center
Services for International Students and Scholars (SISS) within Global Affairs provides visa and immigration advising and intercultural programming and events for the more than 10,000 international students, scholars, and their accompanying family members, coming to UC Davis each year from more than 140 countries.




Student Community Center
The purpose of the Lesbian, Gay, Bisexual, Transgender, Queer, Intersex, Asexual Resource Center (LGBTQIA Resource Center) is to provide an open, safe and inclusive space community that is committed to challenging sexism, cissexism/trans oppression/transmisogyny, heterosexism, monosexism and allosexism.


Student Community Center
Our mission is to provide holistic support to MENASA students at UC Davis. We approach the work through education, advocacy, and an intersectional lens. We hope that through building community, students embrace their authentic selves and find belonging at UC Davis.




University House and Annex
The Native American Academic Student Success Center is focused on creating a sense of belonging for Native American students that honors and celebrates Native cultures. 




Student Community Center
The Student Recruitment and Retention Center stands for educational equity. Our student-run and student-initiated programs foster holistic academic and personal development while raising political and cultural awareness to empower students to act as dynamic leaders for their communities.




Dutton Hall
The Transfer and Reentry Center assists all transfer students from junior college or community college and reentry students with the transition to UC Davis and the UC system.




Memorial Union
The Veterans Success Center at UC Davis is committed to providing services to the student veterans, service members and dependents of the Armed Services. The center provides a welcoming space, professional and peer advising, guidance regarding educational benefits and engagement opportunities that span the university and the larger Davis community.




North Hall
The Women's Resources and Research Center (WRRC) provides a place for students to learn about resources and educational programs that focus on gender equity and social justice. It is a great place to meet friends and get involved with on-campus events and student organizations working to address sexism, genderism and oppression.