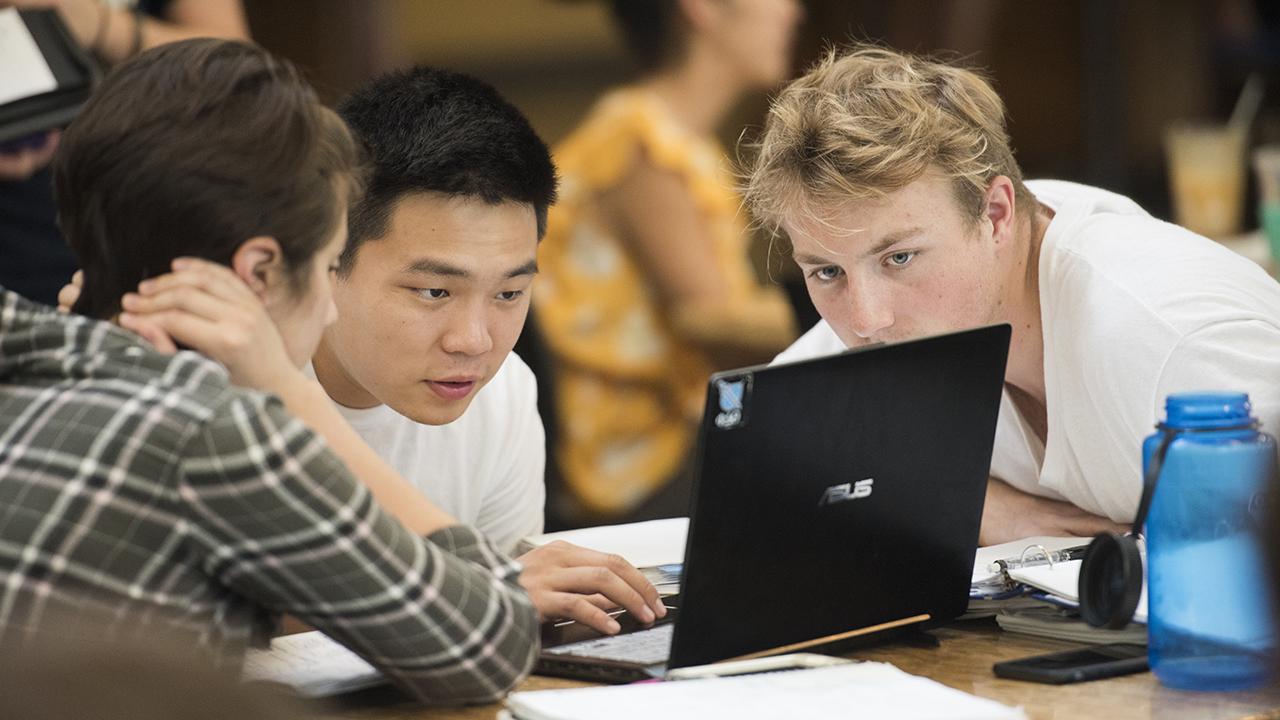 ---
How were midterms?
Ace them?
Or "room for improvement?" It's not too late to take advantage of the free academic tutoring options that literally surround us at UC Davis. Wherever you are on campus, Academic Assistance and Tutoring Centers (AATC) offers a tutoring option near you. You might even have already used their services without realizing it—but it's worth taking a minute to familiarize yourself with what's available. 
Here is a breakdown by type:
Drop-in Tutoring — swing by anytime during open hours, work on assignments, study—on your own or in a group—and get help from on-site specialists or peer tutors, as much or as little as you need. Drop-in tutoring takes place in various campus locations, depending on the subject, as well as in Cuarto, Segundo and Tercero Academic Advising Centers (see next section for details).
Workshops — are also available for some subjects (chemistry, math, physics, writing). These parallel the material for a specific course and can take the form of a discussion group or Q&A session led by a subject specialist.
Writing workshops provide instruction on a particular theme, such as avoiding plagiarism.
Office Hours/Individual Appointments — Office hours are offered by specialists in Chemistry, Math, Physics and Statistics at various campus locations. These are small sessions that are ideal if you have a couple of questions you need help with or just want to listen to other students' questions. See the office hours schedule for fall 2019. 
The Writing Support Center offers individual appointments with a writing specialist or tutor to get one-on-one help with an essay, letter or other writing assignment. Individual appointments are usually scheduled in advance. Watch a video about how to book an appointment here. 
---
By campus location:
Bainer Hall — Drop-in Tutoring (Engineering)
Dutton Hall — Workshops, Classes, Content Reviews, Individual Writing Appointments (Chemistry, Math, Physics, Writing)
Sciences Lab Building — Drop-in Tutoring (Biology)
Shields Library (Lower Level) — Drop-in Tutoring (Chemistry, Math)
South Hall — Drop-in Tutoring (Economics, Physics, Statistics)
University House Annex — The Writing Studio: Drop-in Tutoring (Writing)  
Center for Chicano and Latinx Academic Student Success — Office Hours (Statistics, Physics, Math, Chemistry)
Cuarto, Segundo and Tercero Academic Advising Centers — Drop-in Tutoring (Chemistry, Math)
---
By course (varies by quarter):
Biology — BIS 101, BIS 102, BIS 103, BIS 104, BIS 105 (Drop-in Tutoring)
Chemistry — CHE 10/WLD 41C, CHE 2ABC, CHE 8AB, CHE 118ABC (Drop-in Tutoring); CHE 2A Content Review, CHE 2C, CHE 8A Content Review, CHE 8B, CHE 118A, CHE 118C (Workshop)
Economics — ECN 1A, ECN 1B, ECN 101 (Drop-in Tutoring)
Engineering — ENG 102, ENG 103, ENG 105, Python, EME 106, EME 165 (Drop-in Tutoring)
Math — WLD/precalc, MAT 12, MAT 16ABC, MAT 17ABC, MAT 21ABC, MAT 21AD, MAT 22AB (Drop-in Tutoring); MAT 21D, MAT 22A, MAT 22B (Workshop)
Physics — PHY 7, PHY 9 (Drop-in Tutoring); PHY 7A, Math Review for PHY 7A, PHY 7B, PHY 7C, PHY 9A Content Review (Workshop)
Statistics — STA 13, STA 100 (Drop-in Tutoring)
Writing — All
AATC also teaches preparatory courses to help students get ready for the content and problem-solving skills needed to succeed in calculus and physics. There are also co-classes that offer review and practice for students concurrently enrolled in a calculus or physics courses. These pre and co-classes are offered for workload units. Courses vary each quarter. Check each quarter for what is being offered in math and physics.
---
Drop in already! 
There's a wealth of good reasons to use tutoring services. A compelling one might be "Why not? It's free."
But if you need more, consider that getting tutoring in a great way to stay motivated and make sure you're studying and using that study time efficiently.
Tutoring adds value to the course you're getting support for by helping you get a stronger grasp of the course material and track your progress as you go through the quarter.
Getting the free support you need should also give you peace of mind, knowing that you're doing what's necessary to "get" what you're learning in class and achieve the grade you want. No promises, but it could even net you just a little bit more sleep.
Whether your midterms were thumbs up or down this quarter, give tutoring a try. And then next quarter, get started early.   
---
About the author
Nathaniel Curiel, Student Affairs Marketing and Communications, can be reached at 530-752-9162 or nscuriel@ucdavis.edu.