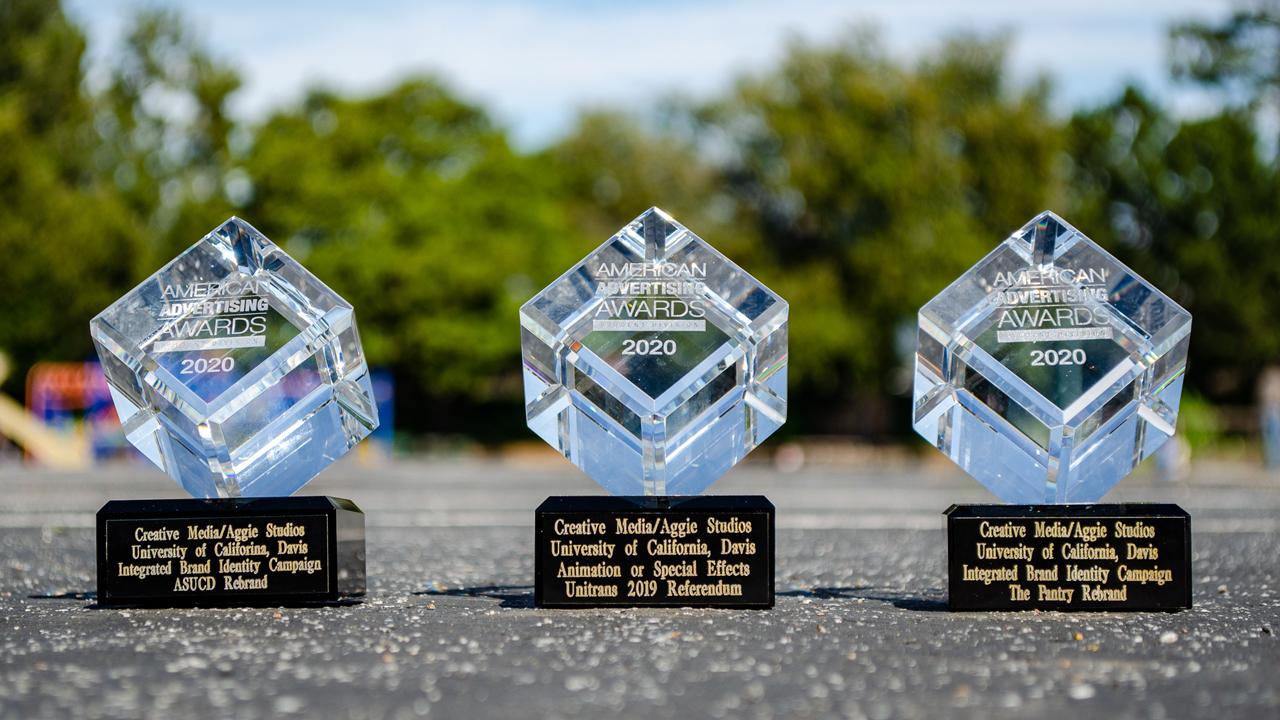 Creative Media and Aggie Studios won awards for their incredible work at the American Advertising Awards, the largest advertising competition in the country. In March 2020, at the local level of the competition, consisting of the greater Sacramento and Fresno area, Creative Media and Aggie Studios won Gold in Animation/Special Effects for the Unitrans Referendum video and won Gold in the Integrated Brand Identity Campaign category for both the Pantry Rebrand and the ASUCD Rebrand.
By winning Gold, Creative Media and Aggie Studio's projects moved on to the regional level of the competition, competing with students from all across Northern California and Northern Nevada. In April 2020, the Unitrans Referendum video and Pantry Rebrand Campaign both won Silver in their respective categories, and the ASUCD Rebrand won Gold, launching it to the national level of the competition.
The Unitrans Referendum video was a video produced to educate and encourage undergraduate students to vote on a referendum to increase student fees to better support the Unitrans bus system. This referendum successfully passed with record-breaking turnout in Winter of 2019.
The Pantry rebrand developed a new logo to represent The Pantry as a welcoming space where students can come for nutritious goods and consisted of a poster, brochure, and social media campaign. "The purpose of the Pantry Rebrand project was to bring greater awareness to The Pantry unit and show how ASUCD is committed to solving issues surrounding food insecurity," said Creative Media Project Manager, Aaron Garcia.
The ASUCD rebrand involved crafting a new mission statement and brand mantra for ASUCD, developing a new website, and creating unifying logos for ASUCD and all of its units, committees, and commissions. "Creative Media and Aggie Studios both do incredible work, in my opinion, but to hear from industry leaders that our work is on par with industry standards, and excels in the
broader advertising student community is an incredible honor," said Shubha Chakravarty, Executive Producer of Aggie Studios.
—Brandon Dimapasoc, copywriter
About Creative Media and Aggie Studios
Creative Media is a full-service marketing agency run by students. The Marketing, Design, and Programming teams within Creative Media work together to produce engaging content to promote and advertise ASUCD and its units, committees, and commissions. Aggie Studios is Creative Media's premier video production subunit, composed of artistic students coming together to tell the stories of our community.
About ASUCD
The Associated Students of the University of California, Davis (ASUCD) is the association representing the students of UC Davis. Composed of over a dozen units, each with its own unique mission, ASUCD provides programs and services to its students based on four pillars: basic services, media, advocacy, and social. ASUCD's mission is to improve the quality of campus life by cultivating a culture of involvement and student leadership.
For more information