Aggie Mental Health Initiative: A New Campus One-Stop-Shop for Mental Health and Well-being Resources
Quick Summary
Initiative will raise awareness of, expand and centralize access to mental health resources at UC Davis.
New Aggie Mental Health website a campus "one-stop-shop."
Look out for student Aggie Mental Health Ambassadors on campus this fall.
Aggie Mental Health is the name of a new campuswide initiative launching this fall to centralize and expand support for students' mental health and well-being at UC Davis. Anchored by the Aggie Mental Health website, a comprehensive "one-stop-shop" for student mental health resources, the initiative's main aims are to raise mental health awareness at UC Davis and facilitate enhanced access to and utilization of mental health resources in ways that are responsive to students' real, reported needs.
The Mental Health Landscape
At UC Davis, 1 out of 3 students reported experiencing psychological distress, according to a recent assessment by the American College Health Association. 58.1% reported experiencing loneliness, and 30.6% reporting having thoughts of suicide using the Suicide Behaviors Questionnaire- Revised (SBQR). The lived experiences behind these numbers challenge the university community to work together to collectively invest in the mental health of our students.
The Aggie Mental Health initiative will provide tools for students to find and access support more easily when they need it—and empower and educate faculty and staff on how to help and support students.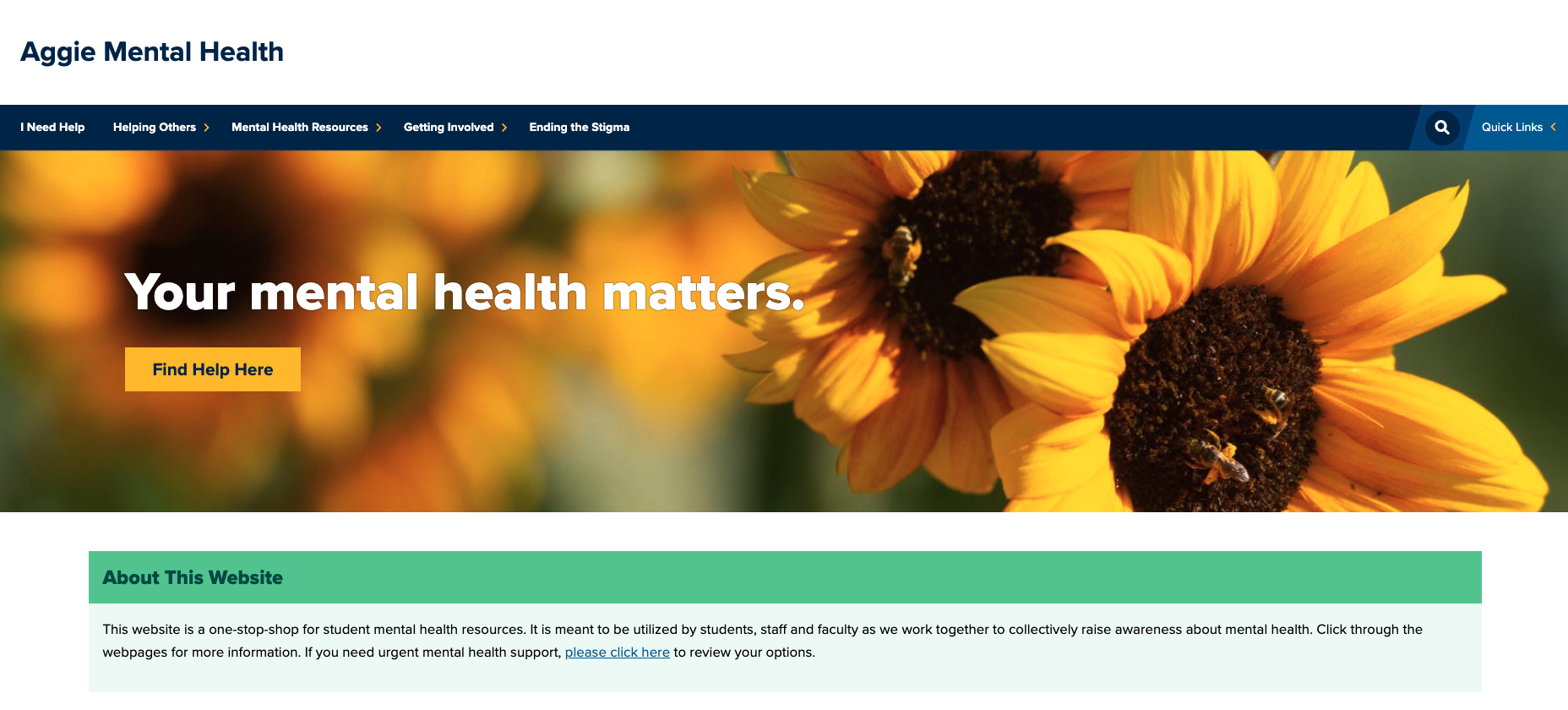 A True Campus Hub
The Supporting Students for Faculty, Staff and Teaching Assistants section of the Aggie Mental Health website is designed to provide faculty and staff with exactly these tools, including information and resources around supporting students in distress and fostering well-being in the classroom, as well as online trainings, quick lists of non-emergency resources and more. 
A true campus hub, the new website brings together all UC Davis mental health resources and offers students, staff and faculty a universal starting point for almost any question about mental health resources at UC Davis.
The Aggie Mental Health website is just one component of the university's commitment to the UCOP Equity in Mental Health funding plan—and addresses student feedback about the confusion and perceived complexity of learning about and accessing mental health services on campus. Student feedback was instrumental in the development of the website as well as other key elements of the initiative, including messaging, design and outreach efforts. 
Peer-to-Peer Engagement
Also integral to the initiative is a peer-to-peer student ambassador program aimed at building awareness, encouraging help-seeking behavior and connecting students to appropriate mental health resources. Recent studies have demonstrated that mental health peer programs can accelerate stigma reduction and increase service utilization rates. Look for Aggie Mental Health Ambassadors on campus this quarter as they engage fellow students at large events like Orientation and at pop-up events in resource centers and elsewhere on campus.
About 30 Aggie Mental Health Ambassadors are employed by the Department of Public Health Sciences and will work directly with a variety of units on campus to help normalize mental health conversations through tabling, giveaways, support with social media promotion and other activities. Health Education and Promotion (HEP) student staff and volunteers will also be working to improve mental health on campus.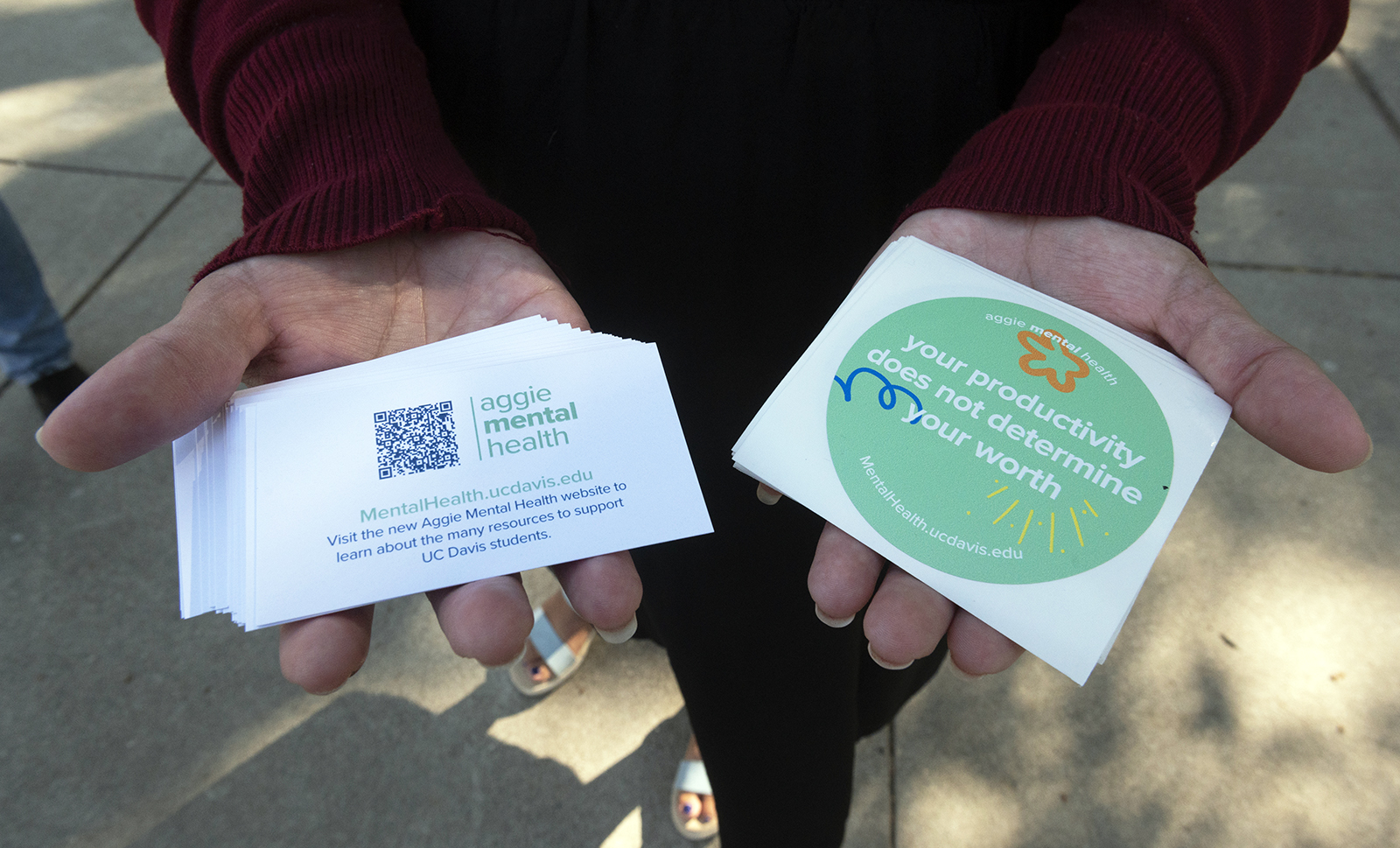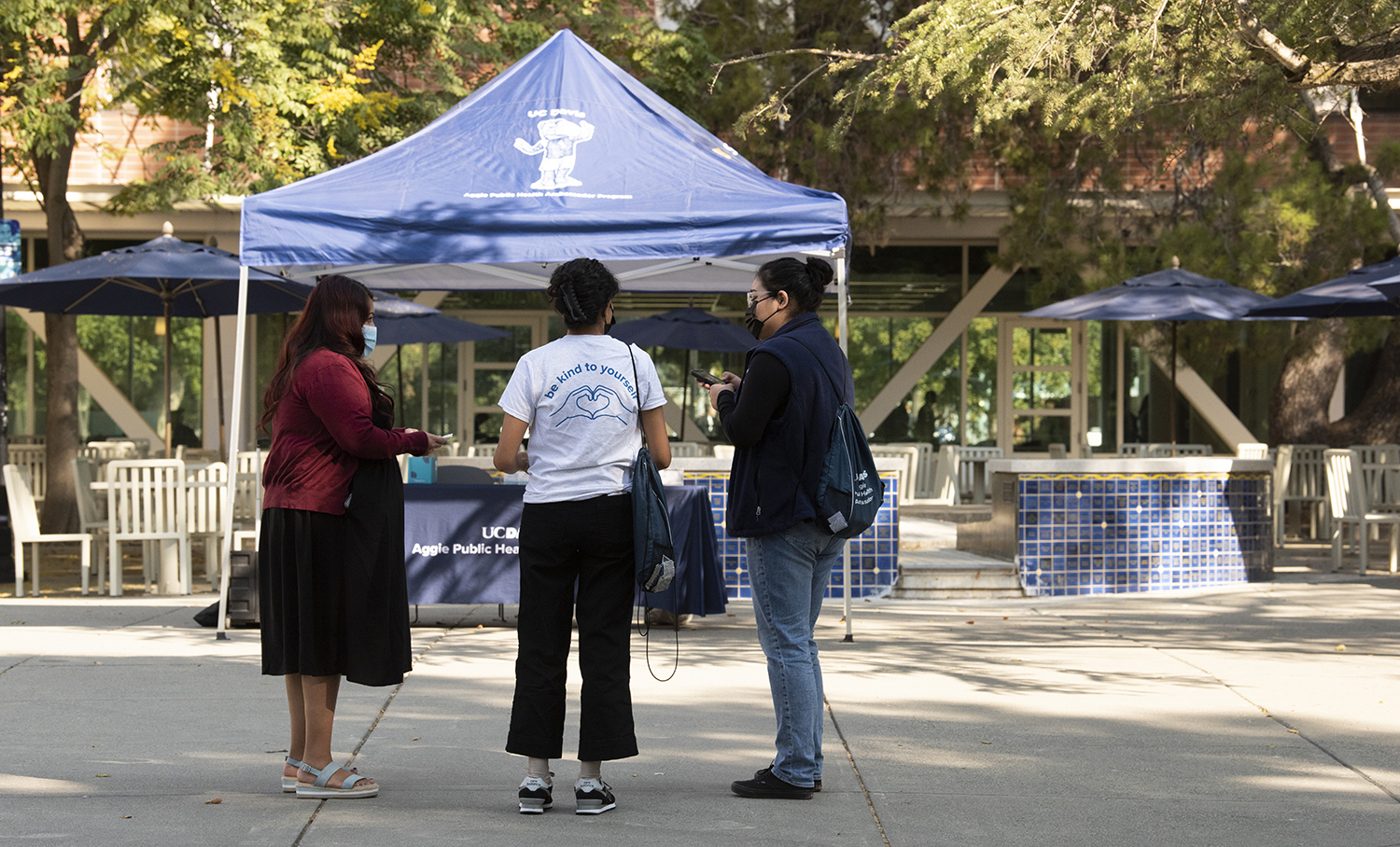 Funding and Development
UC Davis received UCOP Equity in Mental Health funds to support the Aggie Mental Health initiative—as well as seven new FTE positions in the mental health and well-being space, a houseless student program and grants for mental health programs. The UCOP funding plan includes "a holistic student mental health and well-being framework, to foster a culture of well-being and belonging on UC campuses," and to support prevention, early intervention and treatment services.
Because of the scope and reach of the Aggie Mental Health Initiative, the Each Aggie Matters website, social media channels and marketing campaign will all be retired and replaced on campus mental health resource lists.
The initiative was developed over the course of the past year with the direct involvement of students, clinicians and mental health experts. Each stage incorporated student feedback via surveys and focus groups, and this partnership will continue to be a key driving force as it grows and develops in the future.
Various departments in the Division of Student Affairs collaborated in the initiative's planning and implementation, including Health Education and Promotion and the Public Health Sciences peer program, and partners included the Mental Health Task Force, the Aggie Compass Basic Needs Center, Office of Student Support and Judicial Affairs, Student Health and Counseling Services and others.
---
Visit the Aggie Mental Health website at mentalhealth.ucdavis.edu to learn more.