SHCS Earns LGBTQ Healthcare Equality Leader Status
The Human Rights Campaign Foundation this year designated Student Health and Counseling Services (SHCS) an "LGBTQ Healthcare Equality Leader" for the first time. Earning a score of 100 on the foundation's Healthcare Equality Index (HEI), SHCS are one of only three student health centers in the country so recognized, and the only one in the UC system.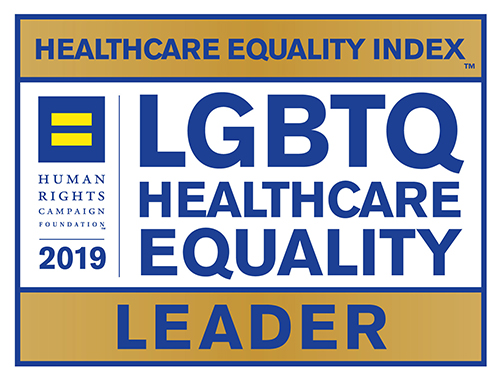 This designation means that SHCS has met certain criteria for best practices in LGBTQ healthcare, including non-discrimination measures and staff training—SHCS staff are now mandated to do queer and trans health training annually—patient services and support, patient and community engagement and employee benefits and policies.
The goal of attaining Leader status helped SHCS begin implementing new measures and promoting existing resources following a survey (now annual) of LQBTQIA+ students regarding their health priorities and healthcare experiences. This included the creation of SHCS' LGBTQIA+ Task Force, which comprises staff members and is tasked with increasing SHCS' capacity to serve queer and trans students.
A long time in the making 
"This has been a huge undertaking for us that has taken more than two years, a lot of collaboration, and the development and implementation of over a dozen new initiatives to serve our queer and trans students—who need visible support from healthcare systems in light of historical trauma," said Blake Flaugher, Health Promotion Specialist at SHCS. On top of listening to students' feedback, members of SHCS' LQBTQIA+ Task Force have consulted with the team at UC Davis Health, which has been an HEI Leader for nine consecutive years.
The LGBTQIA+ Task Force are also a resource for staff, and are available to answer questions that may come up when working with LQBTQIA+ students. A great starting point for referring students to available LGBTQIA+ health resources on and around campus is We Thrive: Elevating Queer and Trans Community Health, an online resource hub and campaign developed by SHCS' Sexual Well-Being Student Coordinators.
"This is not a stopping point or check box," said Blake, "it's about starting a conversation with students and showing some of our most vulnerable students that we are here for them and are trying."