Vice Chancellor Tull Wants To Make Sure You Get What You Came For
On July 1, Renetta Garrison Tull became UC Davis' first Vice Chancellor for Diversity, Equity and Inclusion. In this position, announced by Chancellor May last year, Vice Chancellor Tull will lead the Office for Diversity, Equity and Inclusion and be involved in student, staff and faculty recruitment and retention at both the Davis and Sacramento campuses.
An engineer by training, Dr. Tull comes to UC Davis from the University of Maryland, Baltimore County, where she served as associate vice provost for strategic initiatives, professor of the practice (engineering and IT), as well as director for graduate and professional pipeline development and special assistant to the senior vice chancellor for the University System of Maryland. 
---
What have been your first impressions of UC Davis and the city of Davis?
This might sound strange to you, but Davis seems like such a magical place to us. It seems warm and friendly, not just in terms of the climate, but in terms of the people we've met. My husband [Dr. Damon L. Tull] also started on July 1, and he's working in the Graduate School of Management. He has a lectureship in engineering, but his principal piece is working with the Child Institute for Innovation and Entrepreneurship.
I want everyone to experience the kind of welcome that we experienced coming here. Coming from the East Coast and being a woman of color—that doesn't happen everywhere. I grew up reading books about college professors, and so I always imagined that I would be a college professor and have students come over to my house, and I did all of that and it was great, but not everybody has great collegial experiences in the places they go, and I really want people to have that here. If they want to do great research, they can do it here and have a good time doing it. If they want to have a great career, they'll be able to come here and do it. I just want it to be something that permeates the climate and if that's something that's here all the time, then I want to make sure that it stays and that everybody has a chance to have that feeling.
What will you miss about your old job?
I'm not a "look back" kind of person, so I don't know if I will miss the role—the people who I worked with are fantastic, so I have wonderful mentors, I had wonderful people in my group, great colleagues, fantastic students—so I would say that I will miss them but I'm certain I'm still going to interact with them from time to time, whether it's at conferences or in meetings. And then there's so many great wonderful challenges here. 
What are those challenges? Have you had a chance to identify them yet?
I don't know yet. I see a lot of things through rose-colored glasses, but at the same time I'm realistic and know that at some point I have to take those off and really see what's below the surface. My hope is that the things that are below the surface, whatever they are, are not insurmountable and may be the result of miscommunications or misunderstandings, and that they can be addressed so we can get back up to what an ideal or near-ideal would be for the university. One of the things that I really wanted to drive home during the interview process is that I would like my office to be a "guardian of the things that are good," so that everyone gets a chance to partake in those things. 
Everyone comes to a university for a particular reason, and I want people to get what it is they came to get, without barriers. So if you came for academic freedom, you have academic freedom; if you came to support your family, whatever your job is allows you to do that without any kinds of barriers set up to prevent you from doing that. There are so many negative things that are going on in society. I think if we can have this place where we really try to make sure that people are having good fulfillment in their lives, I would like to be able to facilitate that. I think it is possible coming to Davis and experiencing what's already here—whatever it is, the outcome is that I feel welcomed. People will say hello if you say hello to them. There are places where you go and you say hello and people just stare at you. So if we have that culture, let's continue it and let's also make sure that people who are new who are coming to our university know what that culture is and that we're all part of it together. 
What do you see as the most important functions of your role?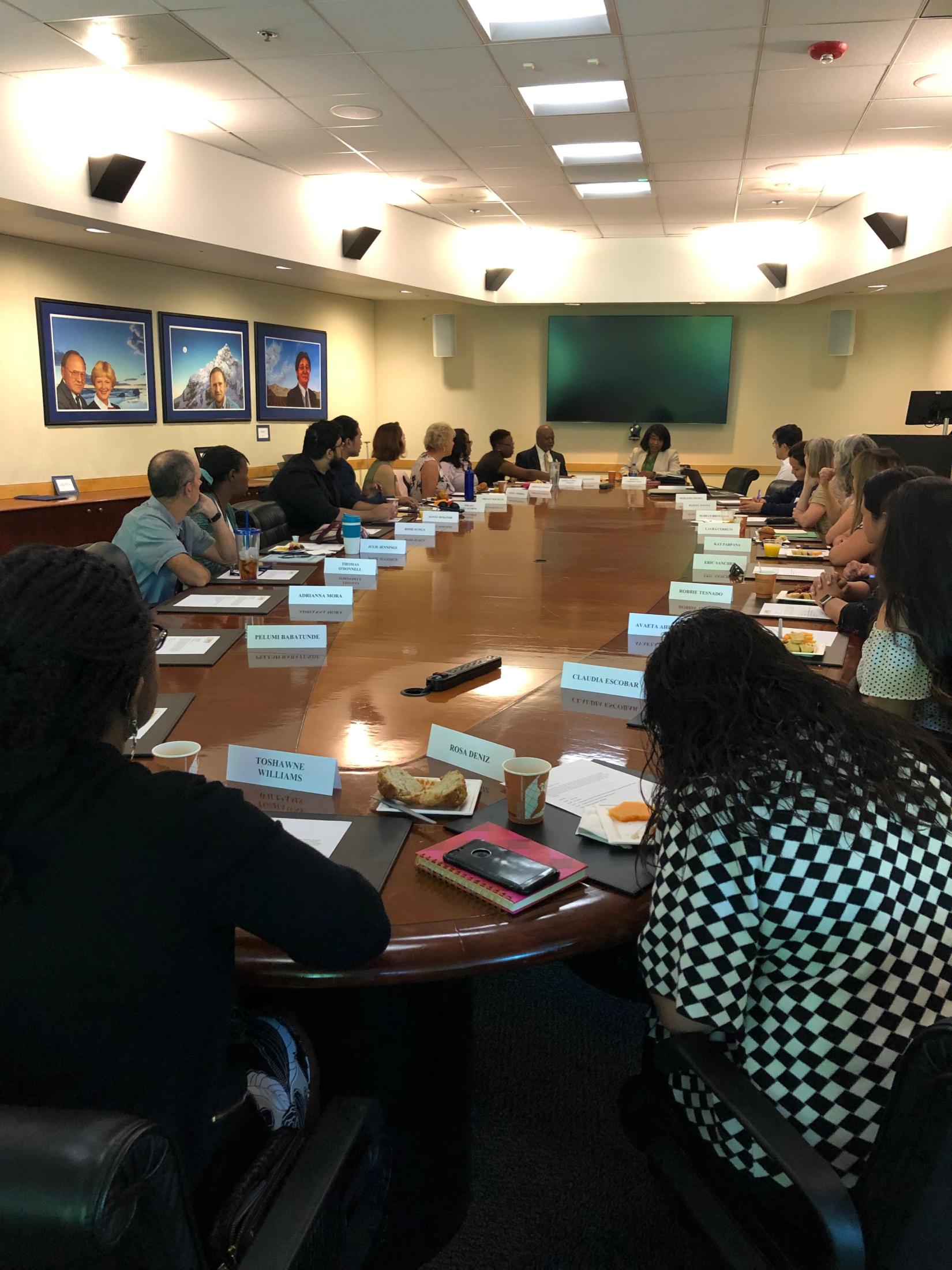 The essence of my role is to try to understand the entire landscape and what's going on here at UC Davis, both at the Davis campus and UC Davis Health, and to try to ensure, again, that we are helping make sure that everyone feels like they are included and that whatever goals they had for coming to campus, whether it's for a day visit or a long-term career, that those goals are met and that they're feeling like they're part of our campus community.
There are a lot of conversations that have to be had in terms of making sure that anyone who didn't have a voice or didn't speak up or didn't think that their concern was worthy of being brought to the table, that those things would be brought to the table. To answer the question in a slightly different way—in my own experiences having been a faculty member and administrator, I do want to let people know that if they if they have a question or if they just want to know what it's like to have gone through the ranks of academe, because there aren't very many women of color in certain positions at universities, we can talk about that. Actually, I have had calls from other faculty and people at other UCs saying, "it looks like Davis is doing a great thing." I've heard things from colleagues and they've been watching UC Davis. Again, it all comes back to sharing my experiences. There are several different hats, but I think the main hat is to try to facilitate function to make sure that it's a welcoming university.
I'm going to have an opportunity to go around to different groups on campus in the fall to really go back to my central theme, to talk to them about reasons they came to UC Davis and what they're looking for from our university. I'm looking forward to talking to all the groups—students, staff, faculty and communities within those groups.
Is social media a way that you like to engage with the campus community? 
Absolutely.  I often tell people, even when I give talks, if they have any questions, just send me a message on Twitter and I'll answer you on Twitter [Handle: @Renetta_Tull]. If we follow each other, and you want to DM, you can send me a direct message. That has worked very well. 
I used to have Facebook and Tumblr—I still have LinkedIn, but Twitter is the one I engage with most often.
Part of that is because I also taught social media workshops for faculty and administrators. I've done social media workshops for the National Science Foundation, for National Institutes of Health programs and given keynotes about how you can use social media to share your message and connect, and that you don't have to be afraid of it. There are different ways that different people use Twitter, so I also talk about using Twitter for good.
What will success look like in the long run?
If I look at metrics, I'm looking for increases in graduation rates. I haven't seen what they all are yet, but I'm sure we can always do better. I'm looking to see where various diverse groups are within those rates to make sure there's equitable advancement, because that's all part of the "getting what you came for." I'm looking to see we have equitable salaries, again part of that same theme.
One of the other key things that I am going to be looking at is where our graduates are going, because I want to make sure that once they leave, and hopefully have had a great experience here, that they are equipped and ready to contribute, not just to the world at large but even to our local region, that there are jobs that are being filled by folks who came from UC Davis, that there's some thriving in terms of our local economy because of what's going on here at UC Davis, that there are new ideas, perhaps new businesses, innovation, things like that, and it's because of a strength in diversity that more people are coming to the table, that we have broadened the participation, broadened the opportunity pool for more people to be involved and engaged in the first place. So those are some of the things that I'll be looking for at the end of next year. When the academic year ends, let's look at graduation rates and where are people going and how is the economy moving and where are our graduates in connection with the economy and how are we contributing to that.
Is there anything else that you would like to add?
This is literally my third week on the job [interview took place July 18, 2019], so I'm running fast. I'm trying to understand the landscape. I'd like to thank the university community for having welcomed me, for expressing their—it feels like excitement that I'm coming to join the university. It has fed my own exuberance [about being at UC Davis]. People don't realize how much some very small things can mean—so if I'm walking to the MU, if I wave, if I'm in my car and I let somebody pass, just the acknowledgement of basic human existence is so important, the value of one's life is extremely important and the acknowledgement of that is important. And so, having been in places where that doesn't always happen, I'm incredibly grateful and excited to have found a place where that seems to really come from the heart,  and I appreciate that and I appreciate being on a campus that has that, when there have been so many other campuses around the country where people have not felt that, it's really a blessing and a privilege to be able to feel that here. I'm looking forward to trying to make sure that other people get that same kind of feeling. 
---
The vice chancellor oversees the Office for Diversity, Equity and Inclusion (VC-DEI), which comprises four previously-existing units: Office Campus Community Relations (OCCR); Office of Academic Diversity; the Office of Diversity and Inclusion, Davis Campus (UCD-ODI); and UC Davis Health's Office for Equity, Diversity and Inclusion (UCDH-OEDI). Affiliated units include the Office for Student and Resident Diversity (OSRD); Faculty Development and Diversity at UC Davis Health (FDD); and the UC Davis Center for Reducing Health Disparities (CRHD).
About the Author:
Nathaniel Curiel is a content specialist with Student Affairs Marketing and Communications. He can be reached at nscuriel@ucdavis.edu.