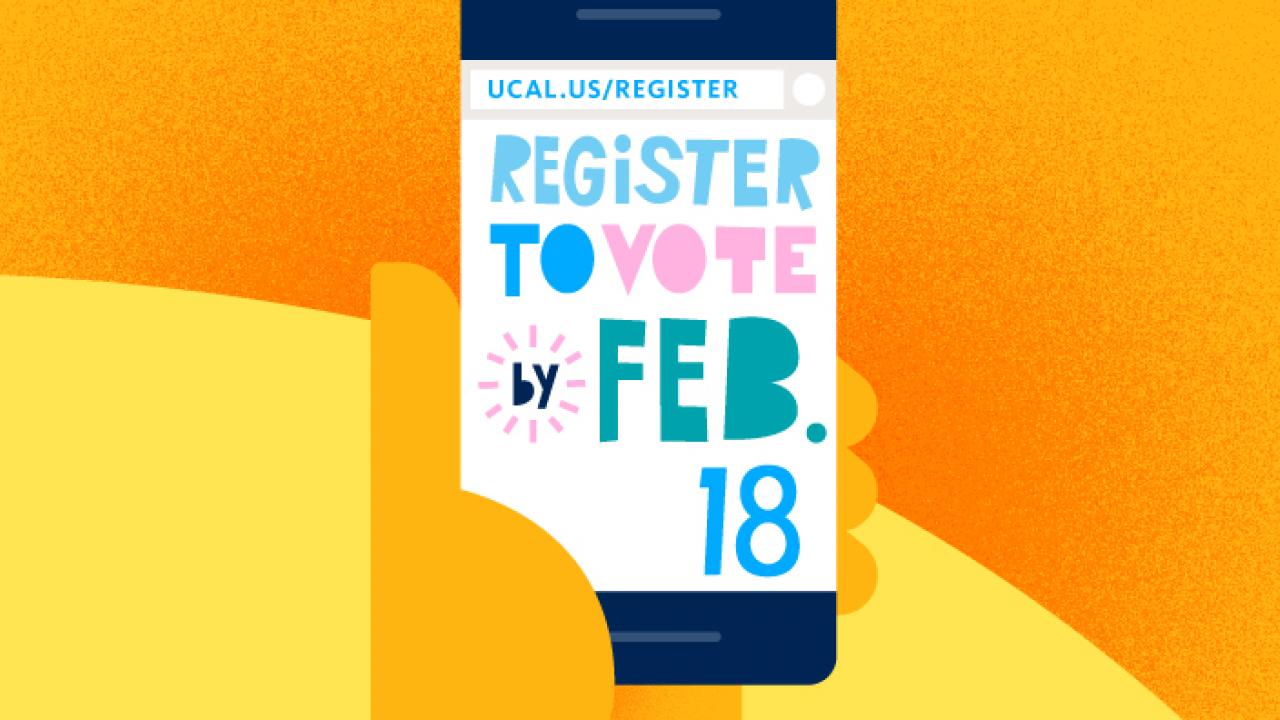 Join millions of new voters and seize your power to be heard. The first step is registering to vote so you can participate in the California primary on March 3, 2020.
Key Dates
February 18 – Registration deadline (online or postmark) for California primary
March 3 – Same-day registration offered at all polling places, including UC Davis
March 3 – Election Day for California primary
November 3 – National Election Day
How To Register to Vote
Find answers to all of your questions about registering to vote at the University of California voter registration site.
If you're a college student who's living away from home, you can register at either your home address or where you're living while at school. Where you choose to register is a personal decision (for example, do you want to have a say on local issues around your campus?) You'll be assigned a polling place near whichever address you use to register. If getting there will be difficult on election day, you should sign up for an absentee or mail-in ballot. Good to know: Your financial aid won't be affected by the address you choose.
If you are currently a registered voter in California, you will want to verify and update your address since registration is specific to the county and state where you are registered. If you choose to stay registered in your hometown, check with your county registrar to explore early voting options or request a mail-in ballot before February 26.
Am I able to register on the UC Davis campus?
In partnership with Yolo County, ASUCD will provide a location for same-day voter registration on March 3 on the 3rd floor of the Memorial Union.

Time to Vote
Where can I vote on the UC Davis campus on March 3?

Vote by Mail: you can drop off any Vote-by-Mail ballot at any mailbox or any polling place within the County including on campus at the 2nd floor of the Memorial Union.
Vote in Person: please first confirm your polling location at sos.ca.gov/elections/polling-place/.

If you live on campus and are registered to vote in Precinct 100032, you can vote on the 2nd floor of the Memorial Union. 
If you are registered to vote at another precinct in Yolo County, you can request your ballot for your precinct and vote on the 3rd Floor of the Memorial Union.
Registered in Another State
As a student, if you choose to stay registered in your hometown in another state, you can find more information about voter registration, voting options and election dates by visiting your state or local election office website.