Faith Oladimeji
​​​​​​

Hometown: Lagos, Nigeria/Victorville, CA

Major:

Neurobiology, Physiology and Behavior

Class of 2022
---
Faith's actual first name is Oluwatobiloba. These days, the third-year goes by her middle name most of the time. But if she sent you an email, the name you'd see in your inbox would look different: Tobiloba Faith Oladimeji, with a couple of letters seemingly missing from her first name. That's also how it appears in her Nigerian passport. Her birth certificate reveals still a different name: Oluwatobi. So, what exactly is going on here? "It's complicated," says Faith. Too long for forms and documents in her native Nigeria, Faith's first name—Oluwatobiloba—had its last four letters cropped by whoever issued her birth certificate: Oluwatobi—while whoever issued her passport—taking a different approach entirely— cut out the first five letters: Tobiloba. "FAFSA almost didn't give me money because my name is different on every document," Faith remembers, laughing. "It was a hot mess."
Faith's family moved to California's Inland Empire from Lagos, Nigeria when she was 13. It wasn't an easy adjustment at first—it was middle school, a totally unfamiliar culture, a language barrier. "No one could understand [my accent], and I couldn't understand anyone," she recalls. Her experiences gave her an awareness of how a person's ability to adjust and thrive can be impacted by forces outside their control, and how even something seemingly small—like a discrepancy in the spelling of a person's name between legal documents—can have the potential to send you off track if there's no one there to help.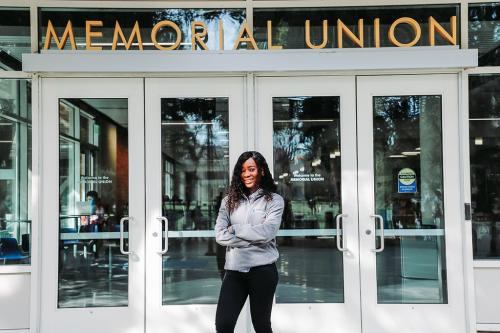 Fast forward to Faith's first year at UC Davis; as a campus tour guide, she became interested in the Aggie Compass Basic Needs Center after finding out about it from her tour script. When she later heard Aggie Compass was hiring to fill a student manager position, she researched the center and realized it was exactly the kind of place she wanted to work. The ability to help connect people with the resources they need and see them walk out the door knowing they're going to be OK brings Faith joy, and connects to the personal, holistic vision of wellness that has motivated her to want to study medicine.
In Faith's experience, food and grocery programs like Fruit & Veggie Up! and CalFresh are the main things that bring people into the center, but once they come in, they find out about the host of other resources they can take advantage of.  "Our main goal [at Aggie Compass] is to help mitigate the effects of food and housing insecurity for students and also to keep you on track for graduation," she says.
"Many people don't understand that often students being placed on academic probation and getting off track for graduation are facing things like housing and food insecurity or having to work extra jobs to keep up with rent, and Aggie Compass is that spot where students can come in and get that help getting on track for graduation—so that the question of 'why am I here?' becomes 'I am here for a reason.'"
Faith's own reasons for being here go beyond her goal of becoming a physician and her involvement with Aggie Compass, though those are a big part of it. She was already set on UC Davis after attending Aggie Senior Weekend. (Her mom would have preferred if she'd chosen UC Riverside, because it's closer to home). "That weekend sold me," she says. "I'm finally in a space where people get me."
Outside of her studies and work at Aggie Compass, Faith is a part of AfroVibes, an African/Caribbean dance group on campus. She is also a part of the Chancellor's Undergraduate Advisory Board and Imani Clinic, a student-run free clinic that serves the African-American community in Sacramento's Oak Park neighborhood.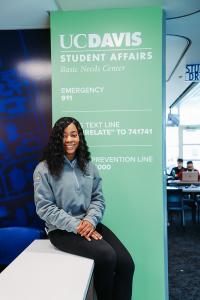 Back home in Southern California, Faith has stayed connected with student life and her campus community over the last year through social media. "Following different organizations on campus and attending virtual events has been a huge part of trying to keep things 'normal' around me at least," she says. "My work at Aggie Compass remains the same … the only thing that's majorly different now is that I work from home through the Aggie Compass Virtual Front Desk, which all students can access on Zoom from 9 a.m. to 5 p.m. But our services remain intact and have been adjusted to follow COVID-19 guidelines." Faith says she still occasionally runs into the issue of stigma as a barrier to getting support. "If you need help, ask," is her advice.
Reflecting on her experience at UC Davis so far, Faith recommends to students to do your research and look for community wherever you feel yourself gravitating on campus. She notes that before joining AfroVibes, she had always liked dancing, but hadn't pursued it because she'd felt unsure about her skill level—until she arrived at UC Davis and found a group of people to dance with who get her.
---
About the author
Nathaniel Curiel, Content Specialist at Student Affairs Marketing and Communications, can be reached at nscuriel@ucdavis.edu.
Primary Category