Ashley Chan
This past summer, third-year Political Science major Ashley Chan was selected to participate in a reproductive rights roundtable hosted by Vice President Kamala Harris alongside student leaders from 33 states. Here at UC Davis, Chan is a member of the Chancellor's Undergraduate Advisory Board and chair of the ASUCD Gender & Sexuality Commission. Keep reading for some insight into her life at UC Davis and her experience at the White House!
---
How did you find your community/meet your friends at UC Davis?
"I met my friends in ASUCD, the undergraduate student government. My first year at Davis I joined the ASUCD Gender & Sexuality Commission (GASC). Commissioners on GASC share common passions and advocacy interests, and I befriended some of the commissioners I was serving with pretty quickly. I have been chairing GASC now for over a year, and my friends are still on the commission."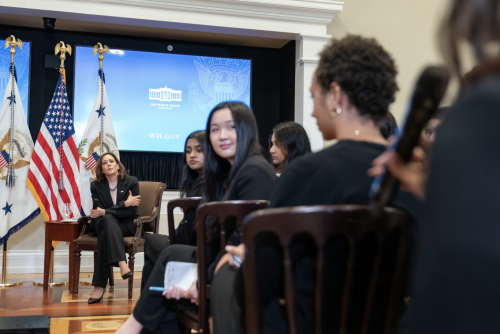 Has anyone made a major impact on your time here at UC Davis?
"I would say Professor Verbitsky, a professor in the Department of Political Science. Professor Verbitsky was my instructor for First Amendment Politics (POL 151) and Fourteenth Amendment Politics (POL 152), and I am actually now a learning assistant for POL 151. His teaching sparked the realization that I want to pursue Supreme Court and appellate advocacy as a career path. Professor Verbitsky has emphasized to his classes that Supreme Court opinions can be understood by non-lawyers, and I have been reading some of the Court's recent opinions, including Dobbs, thanks to everything I have learned in his classes."
What is a piece of advice you would give someone coming to UC Davis? 
"One piece of advice I would give to incoming students is to really make a solid effort to immerse oneself in the various student organizations and opportunities Davis offers and join extracurriculars. My extracurriculars led to leadership positions, connected me to other opportunities, and allowed me to fine-tune my career interests and passions. I credit my advocacy in student government and various extracurriculars in playing a large part in eventually getting invited by the White House to partake in the reproductive rights discussion with the Vice President."
---
After being selected by White House staff from Chancellor May's list of students for consideration, Chan participated in a reproductive rights roundtable hosted by the Vice President alongside student leaders from 33 states. The Vice President and student leaders discussed topics like supporting survivors of campus sexual violence, contraception access at universities and student community organization in response to the overturn of Roe v. Wade.
Chan talked about being chosen by the White House, saying "I wanted to express my gratitude for giving me the opportunity to meet the Vice President and engage in a thoughtful discussion on the state of reproductive rights. It was an honor to be one of the 75 student leaders at the event, and it was a privilege to represent UC Davis." She said of the roundtable, "The reproductive rights discussion hosted by the White House was eye-opening, and I connected with many impressive student leaders, including my ASUC counterpart at UC Berkeley. I spoke briefly with the Vice President's deputy counsel and a lawyer from the White House Counsel's office and plan on connecting with them in the future. It was truly an unforgettable experience."
---
More Information and Related Resources:
Credits:
Video provided by the White House.
Interview and editorial support by Nat Sellman, content specialist, and Robin Dewis, editorial and content creation assistant, Student Affairs Marketing and Communications.
---
Primary Category