Hatim Saifee
Hometown: Indore, Madhya Pradesh, India
Major: Cinema and Digital Media
Class of 2023
---
Hatim Saifee has been reevaluating their expectations for their college years and beyond in light of the COVID-19 pandemic. This has been partly thanks to a conversation sparked by their Native American Studies professor, Inés Hernández-Ávila, about living a mindful life. While we are working our way along the traditional paths laid out by society, "Are we, in that process, learning how to be human, how to be good relatives, good ancestors, and are we growing out of it?" Hatim reflects on these questions, originally posed by Indigenous scholar Daniel Heath Justice. "Or are we just doing what we're told to do?"
These questions have challenged Hatim to take a step back in an environment that is constantly moving forward, and to think about how college can be a time for us to be more intentional in pursuing personal growth as well as helping others. It has also led to a greater interest in studying sociology and social and ethnic relations.
Hatim grew up in India, where their family moved after they were born. The family returned to California when Hatim was in high school, and it was during this time that the seeds of an interest in social justice were planted through involvement with the school newspaper and Intersections Club. Connecting with people from a diverse range of backgrounds and cultures at UC Davis only cultivated this interest more, so getting involved with the Women's Resources and Research Center (WRRC), which has its roots in student activism of the 1970s, felt like a natural progression.
Social Justice and Social Media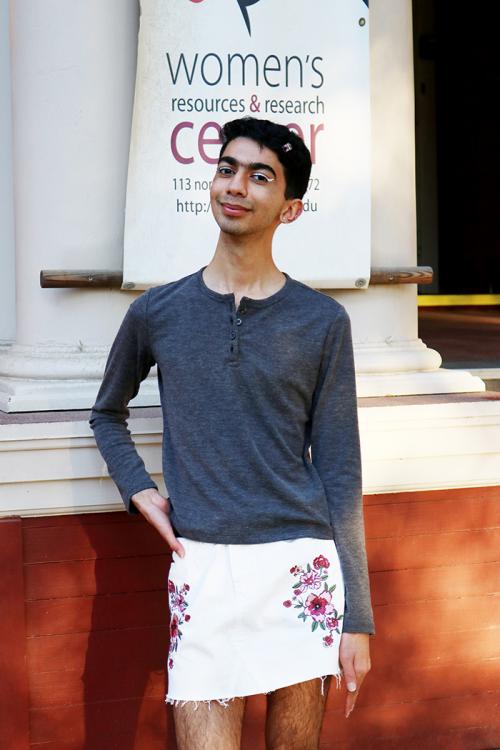 Hatim is the Outreach Coordinator at the WRRC, which is celebrating its 50th anniversary in March 2021. In this role, Hatim is able to combine their passion for social justice with an interest in graphic design by creating promotional material for the center's social media and newsletter, as well as leading virtual workshops on social justice and gender equity. But their favorite part of the job? The meetings.
"Each meeting is just full of this love—which is crazy because we're on Zoom—like, how is that possible?" they laugh. "But everyone is just so loving and caring, and that comes through in the meetings."
Hatim believes this shows up in the work the WRRC does with the campus community, too. "I think that's one of the best parts about working with an organization or group of people that are very intentional about doing community work. They want to extend that feeling of love and care," Hatim says. "It always translates. Always."
Finding Your Right Pace
Their advice for students on finding a community of their own is to take it slow. Having moved five times, Hatim knows that growing friendships isn't always easy.  "It's a very gradual process. You don't just make friends. You have to get to know people, see if you're on the same page about things." 
Hatim's suggestion is to start by getting to know the people around you, then continue to expand and look for opportunities by checking out student organizations and campus communities that truly interest you. Being intentional about patiently growing your social circle is important—and it's also important to be open to unexpected opportunities. Hatim recalls discovering the Baile de Fuego club simply because they saw the group dancing while watching the sunset at Hutchison Garage and asked to join in.
Looking Ahead
In the future, Hatim plans to continue studying sociology and ethnic studies, possibly combining these fields with their Cinema and Digital Media major. "Film is pretty powerful," Hatim muses. "It's kind of crazy to think about how much of an impact it's had historically." They believe it's important to view film critically and consider how it can be used for good. After college, Hatim plans to spend some time living in India with their grandparents and extended family, and is considering pursuing grad school in Europe one day.
But for now, Hatim is focusing on the importance of self-care and being okay with rest in the midst of school, work and the pandemic. Their advice for fellow students? If something is impacting your mental health, "The first step is to recognize that, and the second step is to take a break. There's a lot going on, it's pretty overwhelming—so don't take it too hard on yourself."
---
About the author
Sophia Meals, a fourth-year Communication major, is an Editorial and Content Creation Assistant at Student Affairs Marketing and Communications.
Primary Category