Nicole Arteaga
Hometown: Manteca, CA
Major: Design
Class of 2019
---
"I remember thinking, wow, that's a lot of people," says Nicole about her first day at UC Davis. Coming from Manteca, California, where "everyone knows everybody's business," the hustle and bustle of campus was a bit overwhelming.
She also realized fairly quickly that the major she'd originally chosen wasn't what she wanted to spend her college career studying. As much as she liked science, she decided she wanted to study something that allowed her to tap into and explore her creative side.
After careful consideration and studying the course catalog, she switched to a design major. Like any leap of faith, it was a little scary at first. "You kind of just have to tell your parents 'trust me, I swear it will work out,'" she says.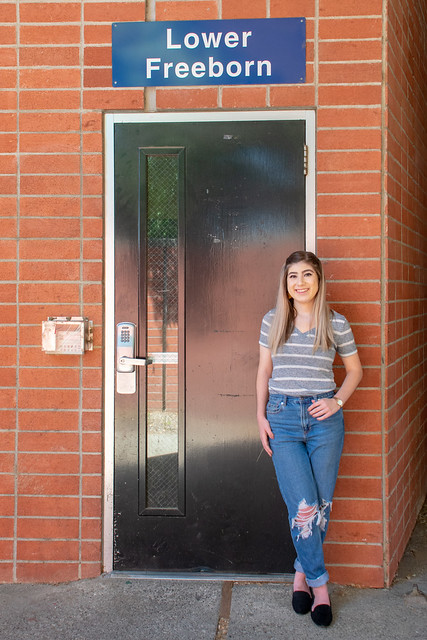 So, when she saw that the Aggie Reuse Store was looking for a marketing intern, she applied right away, reasoning it would be a good opportunity to hone her design skills outside the classroom and get some experience in marketing. "I realized I was pretty good at [marketing]," she says—although when a management position later opened at the store, she hesitated to apply, unable to see herself as a leader. The outgoing manager, who had also mentored Nicole during her internship, saw things differently and encouraged her to apply in spite of her reservations.
The gentle push gave her the confidence to try, and the chance to find out what leadership felt like and realize that she was pretty good at that too. "I wonder, if I'd gone to any other school, would I have had the same experience," Nicole says. "I feel like Davis is full of really welcoming people who are willing to take those kinds of opportunities to push you."
Her journey with design next led her to Student Affairs Marketing and Communications (SAMC) and working as a graphic designer in support of the Division of Student Affairs' outreach to the campus community. On top of the work experience, she loved the sense of belonging she found with her fellow student designers, along with the sharing ideas, giving and receiving feedback, and getting help with the occasional creative roadblock or rut.
Nicole plans to find work as a graphic designer after graduation and has begun looking into firms in the Sacramento area. She likes the intimate scale of her team at SAMC and would love to find a similar environment. Her advice on how to get the most out of life outside the classroom? Don't be afraid to try new things!
---
About the author
Nathaniel Curiel, content specialist, can be reached at 530-752-9162 or nscuriel@ucdavis.edu.
Primary Category