Michael Petris
Hometown: Oxnard, CA

Major: Music

Minor: Education and Chicana/Chicano Studies

Class of 2021
---
When Michael Petris is conducting, he is focused on making sure the musicians in front of him understand what he is trying to communicate with each gesture and facial expression. "Our job as conductors isn't just to be a leader," he says. "Our job is to be accommodating and useful to musicians—to understand a group and work with the group to make good music."
It's a natural fit for the Oxnard native. "My two passions in life are music and people," he says, and Michael is somebody who follows his passions. His discovery of music in middle school led him to pursue higher education, the first in his family to do so.
"Rooted in being first gen, I think, are life skills that not everyone gets to develop so early," he says, reflecting on the difficulty in figuring out application steps like financial aid on his own and his initial disorientation on arrival to campus. Now he channels those experiences into providing a warm, welcoming space for first years as an RA in Tercero and serving as an Orientation Leader.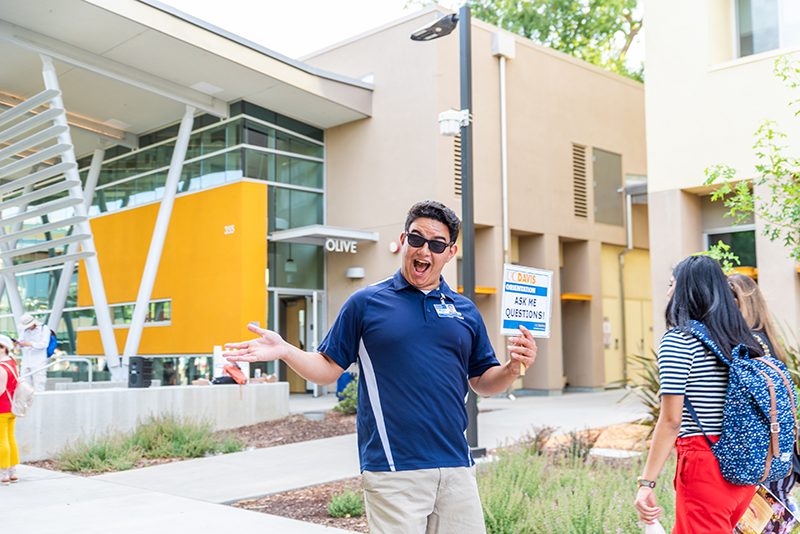 "The Best Summer of My Life"
It wouldn't be a stretch to say that being an Orientation Leader is a bit like being a conductor. "My job was to walk students around, make sure they feel like they're having a good transition, help them decide classes and things like that," he says. Like conducting, it's a supportive role. "I think Orientation was really good for me, in that it built my social skills and personal skills of being a leader." He also created lifelong friendships and tapped into aspects of student life at UC Davis he hadn't been aware of before.
One of these was the Center for Student Involvement (CSI) and the more than 800 student orgs they oversee. Michael got involved in one—the Video Game Orchestra—and last quarter led the group in several campus performances, including music from Final Fantasy and other classic video games.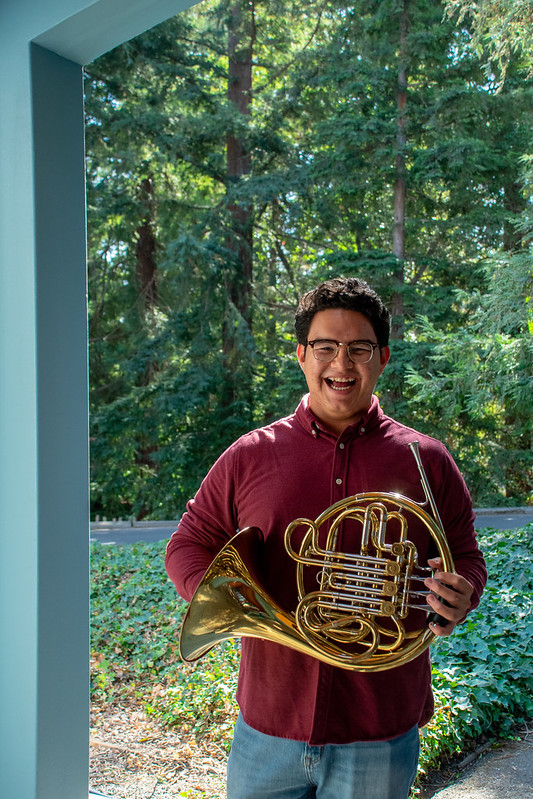 Two Sides to the Student Experience
After he graduates, Michael plans to pursue a Master's of Music in Conducting. What he calls his "far-flung dream" is to conduct at the Berlin Philharmonic, but notes that the stepping stones leading to any conducting job are many. As an education minor and a believer in the value of teaching music to kids, he's also open to a career as a music educator.
"The biggest advice I have for incoming students is that there are two aspects of being an Aggie," he says. "There is the academic side and the social side. You can't have more of one without the other suffering. The stigma about university is that you are only here to learn and study and get out in four years, but you have to realize your mental health is important. Make sure to look into the Center for Student involvement and to check out all of the resources that are here. When you're proactive, it's impossible to not find your place!"
---
About the author
Nathaniel Curiel, Student Affairs Marketing and Communications, can be reached at 530-752-9162 or nscuriel@ucdavis.edu.
Primary Category